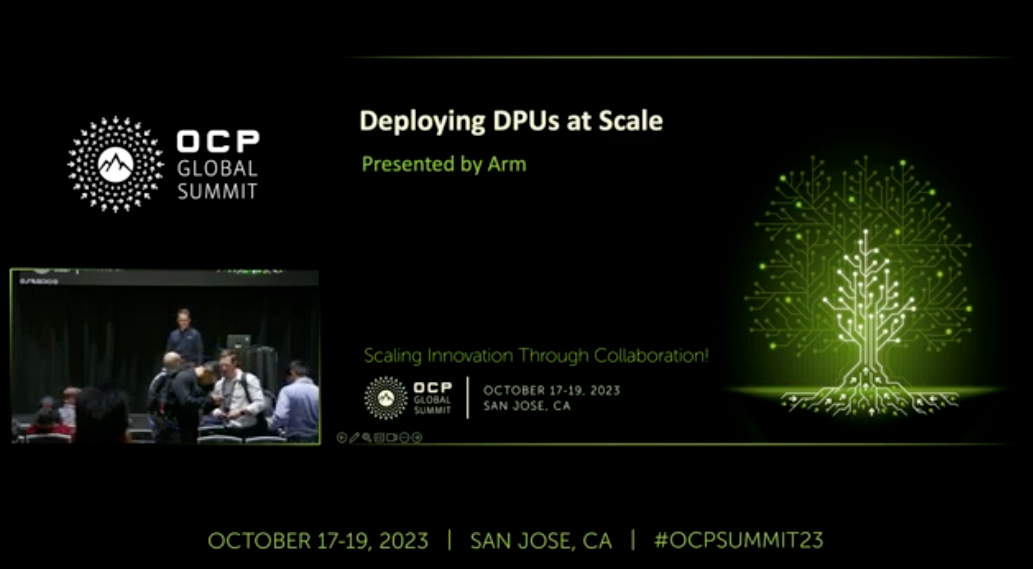 The 2023 OCP Global Summit, which took place in San Jose, California, on October 17-19, had more than 4,400 attendees from 891 organizations from 35 countries around the world.
Industry leaders, researchers and pioneers from the open community engaged in a series of workshops and presentations that showcased emerging trends, complex challenges and new opportunities to drive global innovation.
Open Programmable Infrastructure (OPI) Project was on-site at the event in the Arm booth. Additionally, Marc Meunier,  Director of Ecosystem at Arm and OPI Project Governing Board Member, presented as session titled, "Deploying DPUs at Scale."
Data Processing Units (DPUs) have emerged as a leading example of specialized processing; a new class of hardware that is designed to offload specific compute-intensive tasks, like networking, security and storage, from CPUs. DPUs have demonstratively improved the performance and efficiency of data centers as they are deployed at scale by a growing number of cloud providers and enterprises. However, to unleash their full potential, we need open and standard APIs that can work across different hardware and software platforms. In this video, Marc will show how Arm is accelerating the DPU deployments at scale by working with various industry organizations and standard bodies such as OPI, OCP, etc. to collaborate and to create a layered and interoperable approach that benefits the entire ecosystem. Watch the video:
Learn more about OPI on our website or join our community on Slack!