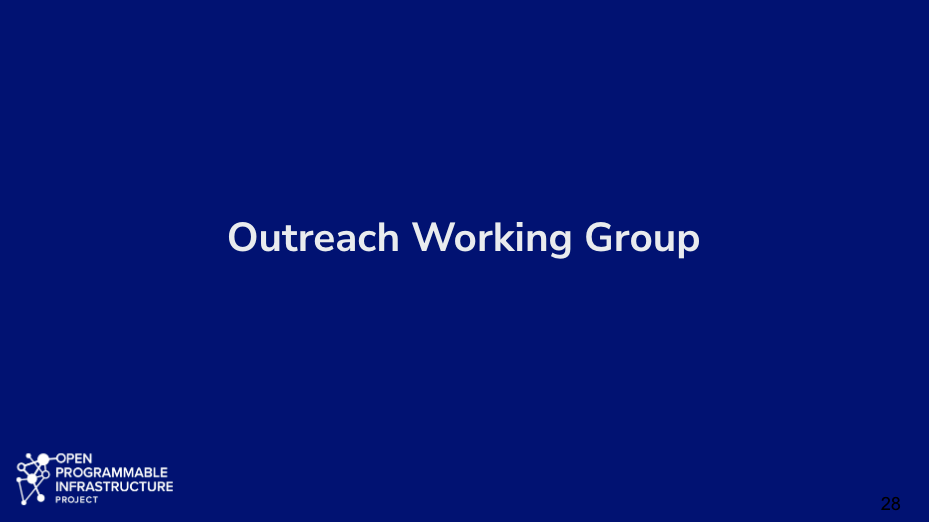 Written by Paul Pindell, Chair of the OPI Working Group and Principal Architect for F5
The Open Programmable Infrastructure (OPI) Outreach Working Group is focused on two major workstreams. The first is to make the project known and understood by the various communities that benefit from the work OPI project does. The second is to market to and attract contributors to join us in the creative work being done and to support the OPI project via membership.
The objective of OPI is to foster a community-driven standards-based open ecosystem for next generation architectures and frameworks based on DPU/IPU-like technologies.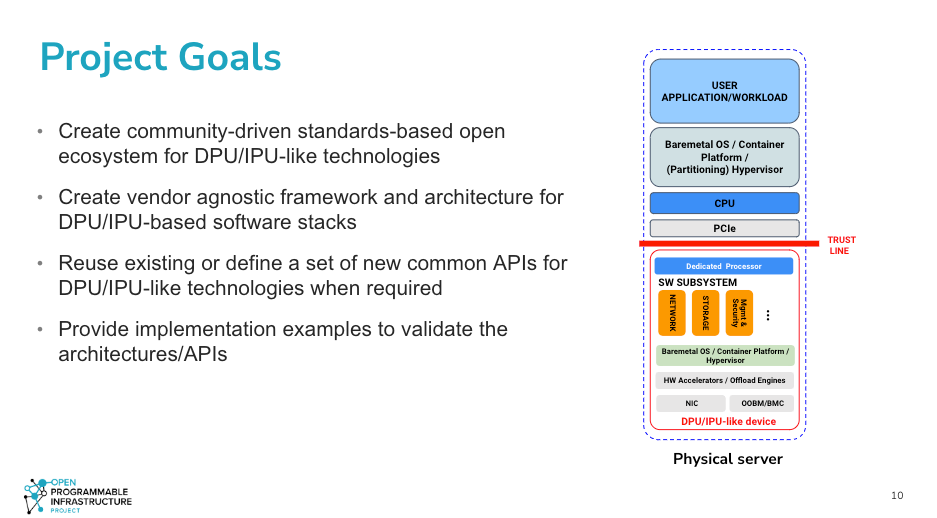 There are three main communities that benefit from the OPI project. The first is the DPU/IPU vendor community. These vendors benefit by making sure what OPI is producing meshes well with the devices and software they are producing. OPI believes that making a standardized framework that applies across vendor's DPU/IPU devices will make it easier for the devices to be deployed and used and thus more devices will be shipped.
The Independent Software Vendors (ISV), Operating System Vendors (OSV), and Server hardware vendors  are the second community member type that is involved in the OPI Project. These vendors are concerned with streamlined provisioning and common operational frameworks across DPU/IPU vendors. Writing drivers, integrations, plugins, etc. is quite burdensome when there is no common open framework available, which often leads to ISVs and OSVs picking and choosing which vendor's offerings to test and validate. 
The third constituent in our community are end-users or "Deployment Partners" as we have come to call them. This category of folks is comprised of the customers who purchase DPU/ IPUs often bundled with a certified Server platform and in conjunction with software from an ISV and OSV. These Deployment Partners benefit from having a common method for deploying DPU/IPUs, and from common operation frameworks. Thus lowering the friction that could arise from deploying multiple vendor's DPU/IPUs.
How to get involved:
If you and your company are interested in learning more about the OPI project and how we intend to build these common frameworks, you can find additional info at https://opiproject.org. We would also welcome you to join our community and contribute your skill and efforts to bring this goal to life. You can find more info on contributing and our efforts by visiting our GitHub at https://github.com/opiproject.